Hallmarks in the database
Gallery items in the database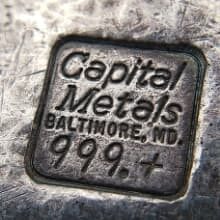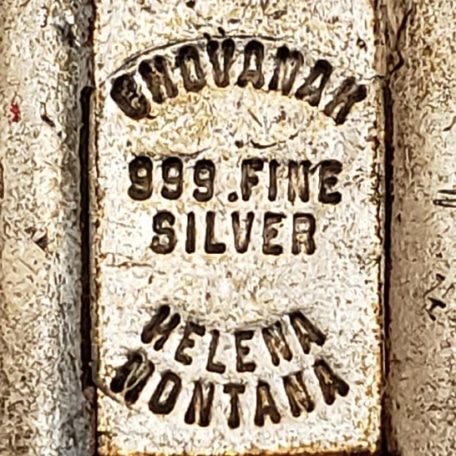 Hallmark Library
Explore our fast growing collection of vintage silver hallmarks. We're working hard to gather the most comprehensive reference database available anywhere online!
Search Our Hallmark Library
What is a "vintage" silver bar?
For the purpose of our vintage silver and gold database, we are considering "vintage", anything at least 40 years old. That being said, we do make exceptions and will generally allow any silver or gold bars and ingots that we think are cool, unique, and worth recordings. However, we typically will not document or allow modern coins or art bars, unless they have specific ties to a know vintage silver or gold refiner.
What is the most popular vintage silver bar "brand"?
While it goes without saying, everyone has their own preferred vintage refiner. However, there are a couple of silver companies that undoubtedly are recognizable beyond the niche vintage silver collectors community.
Johnson Matthey and Engelhard
Long-time collectors often refer to these two refiners as the "gateway drugs" to getting deep into the vintage silver community. Both JM and Engelhard are relatively easy vintage bars to find, and always retain their value well….which makes them perpetually popular for beginning and long-time collectors alike.
Why should I set up an account?
Creating a profile will allow you to unlock several additional features on the site.
You can create your own "collection" to share (or for your own personal private record).
You can "like" and "bookmark" bars, refiners, or images.
Any contributions to the site can be attributed to your public profile.
You can win swag or even vintage silver bars, if your contribution is wins any of our "Most Liked" competitions.
More to come soon!
How do I add a bar to my collection?
Find the "Collection" tab on your profile page.
Select "Add Bar"
Fill out the required information. (Make sure it is as complete as possible, with high-resolution image, if you want it considered for addition to the public database.)
Click "Add Bar"
Do you buy or sell vintage silver bars on here?
We are often buying and selling vintage silver bars. Some bars have a link underneath the bar info boxes that say "Sell Now". If you have something similar, submit the info and a picture and we'll be sure to get back to you!
We're always interested in cool and unique vintage silver bars…especially our favorite refiners such as Dugan & Helterbrand, Chovanak, Montana, and New Orleans Silversmiths!
Do you have a list of all the vintage silver refiners you are trying to document?
YES….But this is always evolving and expanding as the vintage silver community uncovers new refiners and information! Here's a starting point though:
AAA Precious Metals
AARC
ACLI
ACO
Acromatics
AFI
AG Refining Company
AG-Fox
Ag-Tech
AGB
AGSR
Ainslie Bullion Company
Alaska Mint
Alaska Silver Refining
Allen's Coin Shop
Alpha Metals Company
AMAX
AMC
American Argent Mint
American Chemical & Refining Company
American Credit Bar
American Gold & Silver
American Mining Corporation
American Mint Corporation
American Pacific Mint
American Precious Metals
American Silver
AMEX
Anaconda Raritan Works
Anaheim Metals
Anglo American Metals
Apache Grave
APW Anode Silver
Aqua Mining Company, Inc.
Argento 'Italifo
Argento Puro
Argentum Refiners
Argor Heraeus Sa
Argor S. A. Chiasso
Argus Metals
Arizona Silver, Inc.
ART
AS&M
ASP
ASR
AST
Atlanta Mint Incorporated
Aurium Res. Corp.
Aurora Bullion
Australian Bullion Company
Bache Canadian
Baltimore MD Mint
Bankhaus Deak & Company, LTD
Banque Genovoise
Bay Area Precious Metals
BCR
Bear Paw Mining Company
Bell Associates
Bitterroot Nugget Exchange
BMC
BMR
Boise Refining
Bojuka Ryu Inc.
Bonanza Mint
Boshmans Antwerpen
Boston Silver Company
BRC
Broken Hill Association Smelters
Buckeye Refining
Bullion Bank
C & F
C & H Gold & Silver Distributors
C & S Incorporated
Cal-AG
California Crown Mint – Michael A. Graham
California Silver
Canadian Silver Refiners
Candelaria
Cape Precious Metals
Capital Metals
Carlino & Carlino Mint
Cascade Refining
Casey Refining
Casper
CC-S
CC&S
CCC
Centennial
Certified Bullion
Certified Ingots
Certified Mint
CGG
Chaunceys
Chico Ledge
Chovanak
Cincinnati Gold & Silver Refining Company
Ciner
Circle City
Classic Coins
Cloverleaf
CMI/Omega
CMP Incorporated
CNS Inc.
Cochise Precious Metals
Coin Shack
Coin Shop
Coin-A-Rama City
Colonial
Columbus Precious Metals
Commodity Exchange
Commodity Resources & Environmental Inc.
Commonwealth Refining
Comstock Mines
Con-Virginia
Conrad Wiegand
Consolidated Coin Company
Consolidated Mines & Metals
Consolidated Silver
Constitution Mint
Continental Coin Corporation
Continental Silver Corporation
Cortez Mines
Crabtree Mint
CRC
Cripple Creek Colorado
Crown Metals
Crown Mint
CRS
CSR
Cyprus Amax Resources
Cyprus Minerals Company
Dallas Gold & Silver Exchange
Dallas Metals & Smelting Inc.
Darango Mining Company
Daughterty Refiner
David C. Davis Company
David H. Fell Company Inc.
DCC
DCSS
DDP
DeLamar Silver Mines
Denron Refiners
Denver Refining Company
Desert Refining Intl. Inc.
Diamond Mine
DLM Mines
DMS
DMW
Don Casey Company, Inc.
Doral
Doyle's Coin Palace
Doyles Mint
Draper Mint – Swiss of America
Draper Mint – Swiss of Utah
DRC
Drew Refiners Assayers
Drew Refining Company
Dugan & Helterbrand Company Inc.
Duke
Dunes Hotel
DURO
DWP
Eagle Assaying & Refining
Eagle Mining Company
Empire Smelting & Refining
Engelhard
EPM
Equitable Trust of New York
ESR
Eureka Mine
Euro Gold
Eutectic Metals Company, Inc.
Exploration Mines & Smelting
Federal Silver Refinery
Federated Bullion
Finer Inc.
First Majestic
Flanagan Klan
Foster Company
Foster Mint
Franklin Bros., F.B.
French & Associates
G & G
G & S
Gateway
General Metals
Gila Development Company
Global Metal Refiners
Global Minting
GM
GNSC
Gold & Silver Bullion Exchange
Gold & Silver Exchange
Gold Bug Mines
Gold Silver & Gem Exchange
Gold Standard
Golden Analytical & Refining Company
Golden Eagle Refineries, Inc.
Goldfield Ledge
Goldhorn
GOS
GR
GRC
Great American Silver Company
Great Western Coin & Bullion Company
Green Duck Corporation
Green Valley
Greens Creek Mine
GSR
Gulf Coast Coin
Gulf Corporation Council
H&H
H&H Mining
H&M
Hallmark Precious Metals
Hallmark Refining Corporation
Hamilton Mint
Hancock Industries
Handy & Harmon
Hatfield
Hauser & Miller
HCJ Refiners
Heartland Mint
Heraeus Precious Metals
Hercaimy
HH
Hilemn Laboratories, Inc
Hoffman & Hoffman
Homestake Mining Company
Honest Metals
Hoover & Strong Inc. Refiners & Manufacturers
Hospital Trust National Bank
HPM
HS&S
HSR
Huepeded & Company
Hunt Brothers
HW Minting Company
IMF
IMI
Imperial R & R Works
Imperial Refining & Smelting Company
Industrial Silver Company
Ingot Mines
Intermountain Metals
Intermountain Precious Metals
International Amalgam LTD
International Metallurgical Services, Inc.
International Metals
International Precious Metals
International Recover Company
International Recycling Corporation
International Silver Exchange
International Silver LTD Inc.
International Silver Specialist
International Vaults Refining
IRC
Irving Mint
ISR
J
J & J Smelting & Refining Corporation
J Ross Gold Corp.
J William Krohn Company
Jackson Precious Metals
Jade Assay
JASCO
JKL
JKM
JMSI
JW Denver Gold & Silver Exchange
JW Pringle
Kazel Mountain Mines
Keiffer
Keller
Kennecott Copper Corporation
Kingsmen Silver
Klondike Mint
KML
Knight & Company
Lavin, R., & Sons
Lawrence & Son Inc.
LCR
Leach & Garner
Letcher Mint
Liberty Mint
LMC
Lone Star Metals
Lone Star Silver
Lone Star Silver Mine
Louis & Mac Kay
Louisville Metals Company
LSI
Lyman
M & B Mining, Inc.
M2
MacKay, B. R. & Sons, Inc
Magnum Drew Company
Manfra, Tordella & Brooks
Mark Refining
Market Harmony Bullion
Marshal, E.D., Refiners
Martin Metals, Inc.
Mastiff Metals
Materion Mining Company
MC
MCR
MDC
MDM
Medallic Art Company NY
MEE
Mehlos Refinery
Metal Refiners LTD
Metallic Industries, Inc.
Metalrex
Metex
Metz Metallurgical Corporation
MFR Eagle
MFR World Mint
Mid South Silver
Mid South Smelter
Mid States Metals
Midas Metals
Midland Processing Incorporated
MidPacific Gold & Silver
Midwest Mining
Midwest Minting
MM
MMI
MMM – Colorado
MNC
Mocatta Metals Corporation
Mojave Bullion
Molly – T Mine
Monarch Precious Metals
Monetary Metals International, Incorporated
Monex International
Montana Assay
Montana Gold & Silver Corporation
Morgan Mint
Motherlode
MRI
MSC
MSR
Murray, L. C.
MWCC
N 999
NA Boles
NABXC
National Bank of Commerce
National Dallas
National Refinery
National Refining Corporation
National Refining Systems Inc
National Texas Refiners
NCRC
Nevada City Mint
Nevada Coin Mart
Nevada Coin Minting
Nevada Metallurgical Inc.
Nevada Mining Company
Nevada Refining & Smelting
Nevada Silver
Nevada Silver Company
New Hope Gold & Silver
New Orleans Silversmiths
New Silver & Gold Mining & Milling Company
Noble Metals
Noble Mining Company
North Star Silver Mining Company
North Texas Refinery
Northstar Mint
NR
NRC
NSC
NSM
NTS
NWC
OCS
OGS
Ohio Precious Metals
OIO
Oklahoma Federal Gold & Numismatics
Omega Metals Company
Omega Refining
Orchid Island Metals
Original to Constitution Mint Inc.
Oxford Assaying & Refining
Oxford Mint
Oxford Precise Casting
Ozzie's
P
P&H
Pacific Bullion Exchange
Pacific Silver Refiners
Panamerican Silver Corporaion
Paradise Precious Metals
Parker Industires
Patriot Mint
PBT
PC
PCCE
Peace Arch Refining Corp
Pease & Curren Incorporated
Pedley Ryan & Company
PERCO
PG&G
PGM
Phoenix Precious Metals Ltd.
Phoenix Refining Corporation
Pilolli's Stamp & Coin
Pioneer Mint
Placer Sierra
PLRCO
PM Refining
PMC
PMI
PMP
PMTARCO
Portland Mint
Precious Metal Consultants
Precious Metal Recovery
Precious Metals & Refining Incorporated
Precious Metals Refinery
Primo & Stellar Refining Company
Pro Built LLC
Prospector's Gold & Gems
Pure Silver Refinery
PVMR
PW
PWB
Pyromet
QRS
Quality Refiners Incorporated
Quatre Bonded
Queen Elizabeth 2
R
RA
Raineer
Ramplay Silver
Rarities Mint
Refco Metals
RefineMet International Company
Regold
Reliable Corp
Republic
Republic Metals Corporation
Republic Mint
Republic National Bank
Rexair
Rhode Island Novelty Company
Rio Grande
Riverside Coin & Gold
Riverside Hotel & Casino
RJ Mint
RJK
RKS
RLC
RMJC
RML
Rocky Mountain Metals Refinery
Rocky Mountain Mint
Rodman & Yaruss
Roger Williams Mint
Ronel Refining Company
Rosario Mining Company
Rosario Resources Corporation
Royal
RPM
RPRI
RR
RRR
RSSA
Ryan Industries
S Bullion
S.W.S.
Sabin Metal Corporation
Sacramento Refining & Assay
SAH
San Antonio Silver Recovery
San Antonio Silver Refiners
San Diego
San Diego Refining Company
Sandoval Jewlers & Refiners
SBC
Scheffield Smelting
Scheweizerischer
SCMR
Seaside Silver Recovery
Security Metals Company
Sel-Rex Company
Selby Smelting & Refining Company
SH
Sharpe, H. Alvin
Sheffield Smelting Co. LTD
Shelby Smelting & Refining Company
Shoneback Smelter & Refiner Company, K.F.
Sierra Silver Corporation
Sierra Silver Exchange
Signal, The
Silvachem Corporation
Silver
Silver City Stamp & Coin Co.
Silver Company
Silver Diamond Corporation
Silver Farm
Silver International Mining Company
Silver Metals International
Silver Recovery Systems
Silver Refining Corporation
Silver State Bullion
Silver State Refining
Silver Summit Refining
Silvermat
SilverTowne Mint
Silvex Silver Systems
SIMA
Simmons Refining Company
Simon Silver Bell
SiPi Metals Corporation
SIRCO
Sitkin Smelting & Refining, Incorporated
SJ
SJCC
Smith, Ken W.
Smiths
SMM
SMRC
SMS
South East Refining  Incorporated
South Side Association
Southeast Refiners
Southern Bullion Foundary
Southern Metallic Enterprises, Inc.
Special Metals
Speciality Metals
Spectrum Refiners
Spiral Metal Company
Spokane Bullion Inc.
SPS
SR
SRC
SRI
SRS
SSA
SSCO
SSS
SST
Star Metals
Star Silver
States Smelt & Refinery
Strickland
Sun Metals
Sunshine Mining Company
Sunshine Minting Inc.
Sunshine Refining & Mining
SWEST Inc.
Szabo, A. Company Inc.
Van Aken Jewelers
Vanguard Mint
Venters
VW
W
W/E
W&M
Wade Ventures Ltd
Wallace Silversmiths
Wallig
Washington Mint
WB Bushmeyers
WCE
Weber
Wenatchee Gold Belt
WESCAN
West Coast Refining Incorporated
West Texas Silver Company
Western Federal Corporation
Western Pacific Coin & Silver Exchange
Western Pacific Gold & Silver
Western Silver Refinery
Western States Refining
WG&S
WGB
Wildberg Bros. S&R Company
Wilkinson Company
Williams Gold Refining
Willow Creek
Windmill Mines
Winnatche Bolt Belt
Winter Park Silver Exchange
Wolf
Woodward Industries Inc.
World Mint – Yonkers Coin Exchange
World Mint Corp.
World Trade Unit
Worldwide Coin Investments, Limited
Worldwide Precious Metals
WPM
WSC
WV
WWA
Xenia Coin Shop
Yardney Electric Corporation
YB Silver Refiners
Yellow Daisy Refining Co.
YNPM